Home » Automotive
Five cheapest Cars in India
Indian carmaker Tata Motors gave the world its cheapest car in the form of Nano. This has become a benchmark for other carmakers who are now trying to come up with a rival for Tata Nano.
Maruti Suzuki is one such company that is soon going to launch a new car called Cervo, which would be available in the Rs 150,000-220,000 price range.
The cheapest car fight has been going on for long and it seems that an end to it anytime too soon is not in sight. While carmakers slog it out to give you the cheapest of all cheap cars let us take a look at the five cheapest cars currently present in the country.
Tata Nano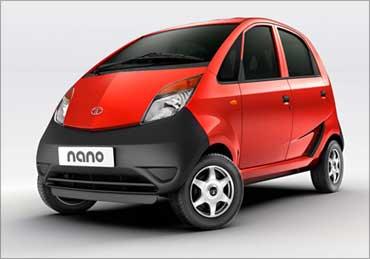 This is a benchmark in engineering and has very basic features. The car gives excellent fuel economy and has a very efficient engine. The car offers a rear-wheel drive with its two cylinders 623 cc engine offering 33ps power.
The engine is a multi-fuel injection petrol type. It is the first time the car is using a two-cylinder gasoline engine along with a balance shaft added to it.
Tata Nano has features such as crumple zones, intrusion-resistant doors, seat belts, strong seats, anchorages, rear tailgate glass attached to the body of the car and tubeless tyres.
The car is priced between Rs 115,361 and Rs 172,361 (ex-showroom, New Delhi).
Maruti 800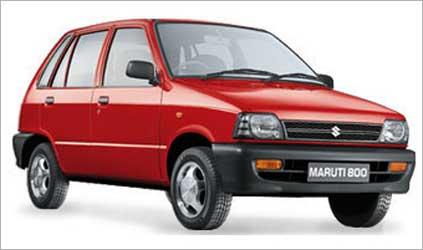 The Maruti 800 can be called the country's first small car. The car produces approximately 37 bhp (28 kW) power and delivers a fuel economy better than 20 km/l on clear and plain roads.
Maruti 800 had a 4 valve per cylinder engine producing 45 bhp coupled with a 5-speed manual transmission but it was later discontinued.
It is being speculated that Maruti 800 might be phased out with the launch of Maruti Cervo. Also, Maruti Suzuki has refused to upgrade Maruti 800 to meet the new emission norms that would be in effect from April 2010.
This has lead to the phase out of the car from at least 13 cities across the nation.
The Maruti 800 is priced between Rs 188,988 and Rs 223,498 (ex-showroom, New Delhi).
Maruti Alto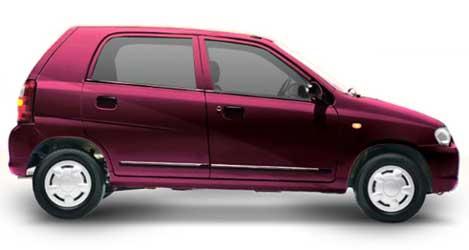 This car is usually seen as a sibling of Maruti 800 and comes with a 796cc, 3-cylinder, 4 valves per cylinder MPFI, FC engine with 32 Bit ECM.
The engine is capable of generating 47 PS power at 6200rpm and 62 NM torque at 3000rpm. Maruti Alto is also claimed to give a mileage of 21 kmpl on highways and about 17-18 kmpl in the city.
The car comes with features such as an AC, fabric seats, remote fuel lid opener and the top end model includes a power steering, cup holders etc.
The car comes with a price tag of Rs 228,814 and Rs 277,696 (ex-showroom, New Delhi).
Hyundai Santro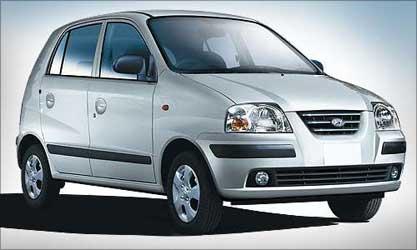 This is a great model by Hyundai Motors that is known to provide good power efficiency and reliability. Hyundai Santro comes with active intelligence technology that delivers a good mileage and power.
It is the car's good suspension with stabilisers that provides better control. Santro also comes with a distributor less ignition system that provides good fuel efficiency, less emissions and more power.
The car comes for Rs 271,322 and Rs 379,882 (ex-showroom, New Delhi).
Chevrolet Spark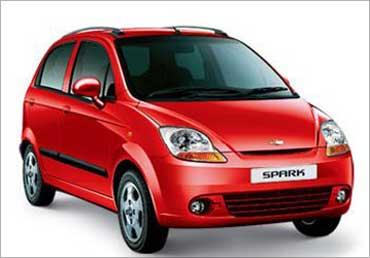 General Motors is a modified version of the old Matiz. The car has sharper styling, rounded nose, there's a well-defined bonnet V, pointy headlights and tiny slit for a bonnet intake.
The car has a centrally-mounted instrument console and the car has good interiors.
Chevrolet Spark has a 995cc petrol engine that generates 48.5KW and a maximum torque of 87.3Nm.
The car is claimed to give a mileage of about 16.9kpl and is priced between Rs 309,908 and Rs 424,353 (ex-showroom, New Delhi).
Source  : CarDekho.com offers the best platform in India to research cars online. Make better car buying decisions using features like car research, reviews, car comparisons, discounts, on-road prices etc. on CarDekho.com.