Home » Career, Featured
30 best distance education institutes in India
The first ever objective ranking of 30 select institutions based on quantitative and qualitative parameters, guidelines for students, unique courses, analysis and more.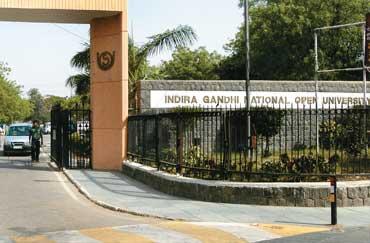 87,86,732 students are registered in 114 distance learning institutes in the country according to our research. Add up  the students registered in 62 more recognised and about 400-odd unrecognised institutions in the country for which estimates are available, the number of students would easily cross one crore (10 million). That is ten times the number of engineers (1.01 million) India produces, and two times the number of regular college seats that are available (5.25 million).
For a nation which has about 1.59 crores students at 10+2 stage, the regular college seats are woefully inadequate. And it is this widening gap that the distance learning institutions seek to bridge. And they come in different shapes and sizes from mega universities with enrolments crossing millions to small universities with a Directorate of Distance Learning catering to a few thousand students. Institutions like IMT and Symbiosis, recognised management schools, also have capitalised on the burgeoning demand, but only cater to niche domains like management and IT.
And the 249-odd institutions vary in size, reach, quality and efficiency. So Careers360 undertook the first ever objective ranking of 30 select institutions, based on a host of quantitative and qualitative parameters.
Amit Ahuja, 32, works as a systems manager with an IT company in New York, and his resume says BCA, MCA from Indira Gandhi National Open University (IGNOU). Yes, he was disheartened that despite scoring 78 per cent in his Class 12, he failed to get admission in a regular college. "But I am doing quite well in life!" Be it people like Amit, or homemakers or managers with top MNCs, millions turn to distance learning (DL) to advance their education and career needs.
DL institutions come in various forms. Universities like IGNOU, which are open universities, exclusively offer DL programmes. Many like Delhi University are 'Dual-Mode' wherein they offer both regular and DL programmes. Private institutes like IMT and private universities like IFCAI also offer programmes through DL.
The target audience
Two kinds of students populate the universe," says Sumanto Mukherjee, Director, MediafeaturesIndia, a study centre for Sikkim Manipal University. "Most of our students at the first degree level are those who could not get admission in regular streams," he said. At the master's and specialised diploma levels, people who work and cannot take time off to do a full-time programme dominate, a fact reiterated by Dr AM Sherry, Director, IMT Centre for Distance Learning (IMT-CDL). Specialised short-term programmes and diplomas attract good professionals for whom time is at a premium.
Classes, Courses, Degree
The core learning in DL comes from the study material. The material, for example, is prepared by university professors and Head of Departments at School of Open Learning in DU. Kavita Mishra, a public relations officer who has done her BA in English from SOL, says that her study material was so useful that her friends in regular colleges often borrowed it to make notes, a point that is seconded by Dr Manjulika Srivastava, Director, DEC.
Contact classes supplement the learning process. At School of Open Learning, Delhi University, classes are held once a week. In many universities like MP Bhoj Open University (MPBOU) or Annamalai University they are held two times for 15 days a year at the university campus itself. Since it is not possible to cover all the subjects in those limited number of classes, students must be self-learners, says Prof Nishant Pokhriyal, Executive Director & Dean (Exam), SOL. Resources such as study material, library, teachers are available to open school learning students. But the quality and quantum of resources vary substantially amongst the different players.
But the best part is that the degree awarded by open universities is the same degree awarded to regular college students. Also, a distance education student can migrate to a regular college, provided there's a seat.
Meeting vocational needs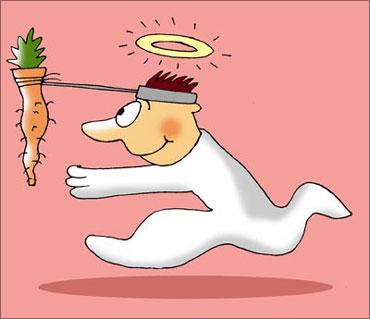 Open learning is also addressing an un-met need in conventional education: the need for vocational courses. Open schools such as Symbiosis Centre for Distance Learning (SCDL) or IGNOU offer a wide-range of skill-based programmes. Venu Gopal, for example, is pursuing Master's in Media Business Management (Distance Education), from ICFAI, Tripura. He wanted to do an MBA programme that would be relevant to his field and not just a regular MBA without a specialisation. "I even looked at programmes being offered by regular colleges, but found only ICFAI offered it."
Another case in point is Ashima Chowdhary, a graduate in English from Delhi University. She has done a diploma in child psychology from Amity School of Distance Learning, and works as a counsellor in a school in Mumbai. "The course gave me the skills to work."
Wrinkles in the system
In spite of the advantages of ODE, there's much to be desired when compared with developed ODE markets such as the US and the UK. Even now printed study material is lost in post. At the moment, only a handful of schools such as SOL are giving the entire material upon submitting admission fee. In fact, SOL students can download the study material from the website. But even SOL is yet to offer courses online.
There are some private DEIs that are conducting classes online and via satellite. For example, Tanya Munshi, editor with a publishing house based in the UK, did a postgraduate diploma in Instructional Design from Symbiosis Centre for Distance Learning, online. From start to finish, the entire module was conducted online, including the exams and submission of project work.  But having just a few institutes exploiting e-learning will not resolve the situation.
Other issues plaguing the system aren't dissimilar from those affecting the conventional education system. There's a shortage of qualified faculty, interaction with teachers is uninspiring and in some cases, there's isn't any at all. The course material isn't revised as frequently as it should be and the admission process is still tedious. The revision varies from once in three years as prescribed by DEC to once every 6 months by pro-active schools like IMT-CDL.
Shamshid Khan, working with a Gurgaon-based chemical engineering firm, had to take an off from the office to travel to an SCDL study centre in Noida, Uttar Pradesh, to find out why he hadn't yet received his material. "I tried calling up their customer care division but it was of no use. They could have easily informed me on the mail or through a phone call."
There is hope
Although the present infrastructure of Distance Education Institutes is struggling to cope with the growing number of enrolments, Pokhriyal of SOL says that steps are being taken in the right direction. SOL has simplified the admission process. "It now takes five minutes to fill up the form. No mile-long queues anymore," he said.
All that the admission officer at the counter asks for is the student's CBSE or any other examination board roll number. The officer punches in the roll number and the system throws up all the details. The form is submitted in five minutes flat. Pokhriyal says that SOL has access to the data centre where information on all Class 12 students is stored, hence the moment the officer enters the roll number of the student, the student's marks, date of birth, parents' names and contact details appear.
Also, DEIs are spreading their network by setting up more study centres and information kiosks. Some provide links to open courseware to distance education institutes, overseas. For example, SOL's website has links to open courseware available on Massachusetts Institute of Technology (MIT). "An excellent source for students to learn more about their subjects," says Pokhriyal.
In addition, DEIs are establishing links with companies and industries to offer employment opportunities to students. ODE isn't seen equal in rank to classroom learning as not much has been done to promote it, thus recruiters tend to have a different impression of students who have passed out from DEIs. But efforts are being made to improve the interface between DEIs and recruiters.
At the institutional level, there's a vast difference, as the rankings suggest. Some are rich in resources but have a long way to go in ensuring a pleasant learning experience for students. Some others have excellent e-learning platforms and IT-enabled student service systems but lack personal contact. The system is evolving but has a long way to go.
It is final. The Indira Gandhi National Open University (IGNOU), the leviathan with 2.8 million students retains the pole position in India's first ever objective rating of Distance Learning Institutes.
It accounts for a massive 30 percent of the total enrolment in the country. Nimesh Chandra, Head of Research-Careers360 spearheaded the huge exercise that involved collating data on all the existing DL institutions, visits to some select universities, study centres and interviews with stakeholders. But the scenario is so bleak, that even then we could get enrolment data for only 114 out of the 176 institutions. India has a long way to go in ensuring comparable data availability.
The ranking project involved examining 30 top institutions under three broad domains namely, Reach & Resources, Learning and Experience, and Results & Efficiency. The results were amazing. The top ten was populated by five open universities, three private players and two dual mode state level universities.
It is the sectoral ranks that open up the field further. For example IGNOU, which convincingly tops the overall ranking, goes down to 15 places in the results category, informing us that it has a tremendous potential for increasing its pass percentage and customer service. Mumbai University, or Symbiosis for example, presents a contrasting picture.
They score a lowly 27 and 20 respectively in resources-committed rank, but provide an amazing learning experience where they score 3rd and 6th respectively. In other words, some have invested heavily in hardware and study centres, while some have focussed on technology exclusively. Very few have scored consistently across categories, showing that the sector needs substantial investments and strategic thinking. And that is the way forward.
The top 30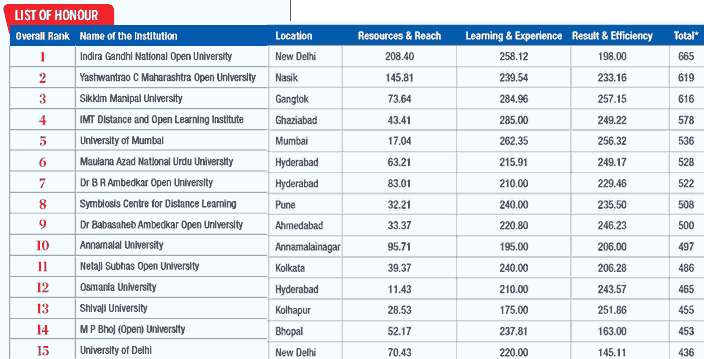 The University for Open and Distance Learning Institutes (ODLIs) in India comprises 249 institutes, out of which 176 institutes are currently offering Distance Education Programmes. Given the nature of operations of ODLIs and the lack of adequate data with the Distance Education Council (DEC) as also in the public domain, shortlisting of 50 institutions was done based on student enrolment data. The logic being the popularity of the institutions, on the basis of their admissions.
Careers360 then sent letters to these 50 institutions with a questionnaire and also requested data from the DEC. Based on the responses received from the institute as well as the data supplied by DEC and in-house research, 30 institutes were finally chosen for ranking purpose. Further, visits were made to the all the institutes that responded as well as to select study centres of others to build a robust database based on input-process-output methodology.
The input primarily looked at the reach, infrastructure and diversity of the institutions in providing distance education. The process emphasised on the quality of resources and delivery mechanism, while output focused on the performance of the institute in facilitating the trained student in getting a better prospect.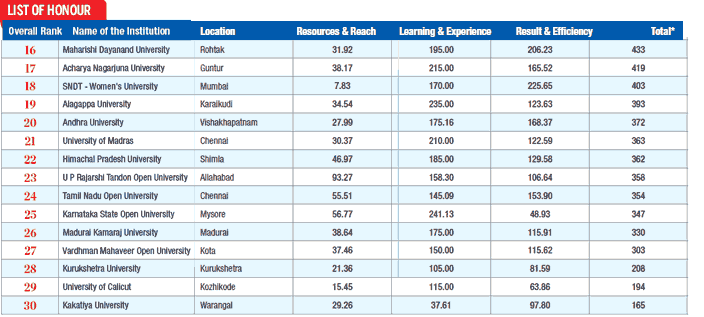 'When content improves, students will come to class'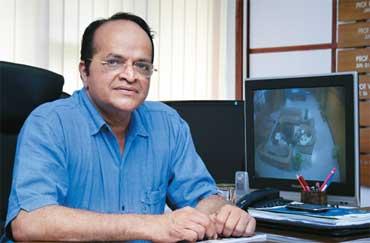 Prof VN Rajasekharan Pillai is a man in a hurry. Donning two big hats: one as Chairman of DEC, the regulator of distance education in the country and the other as VC of IGNOU, the largest open university in the country, he is focused on creating more alliances and enrolments. His mandate is to move our pitiable Gross Enrolment Ratio (GER) higher, a tall order with a population of India's proportions. In this frenzied expansion, is quality taking a back seat? Nitin Jindal, of Careers360, finds out:
IGNOU is in an expansion mode. Where is it heading?
We are focused on three key thrust areas, right now. One is to definitely enhance the Gross Enrolment Ratio. Our approach is optimal utilisation of existing facilities. We see there is a lot of infrastructure and intellectual capital available outside the formal confines of the departments of education or Ministry of HRD or the universities.
How these infrastructures can be contextualised and availed of, that is one thing. Two, there are also many trained, experienced and skilled people available outside the university system. How can we network with them and make use of their capabilities for providing education?
At such a scorching growth pace, doesn't quality suffer?
As you know, we have an Open University system through distance learning mode. We currently have 2.8 million students. But we are not managing them only with the resources in this campus. We have 61 regional offices. There we have our own people, our own set-up including academic-level people. Overall, we have 900 academic level positions in these regional offices across the country. But we have faculty spread over 3,000 study centres across the country. There we have 50,000 teachers.
50,000 full-time teachers?
No, part-time. IGNOU is not just a unitary university but it extends across various institutions. We have collaborations with 3,000 institutions in both the private and the public sector. It may be in the army, in the navy, in an engineering college, in a university or in a higher secondary school. Teachers from these institutes work part-time for us as examiners, as counsellors, as paper-setters, and course writers.
Basically, their extra time is being made use of. Another area is quality of content. Only if the quality of the teaching and learning process is improved, will the student come to the class; otherwise he won't. So, improving the quality automatically increases the reach, the quantity.
What about the quality of course material?
Our material is of high-class quality. It is the contribution of over 70,000 teachers over the last 25 years. So every day I can confidently say there are 20-25 expert level committee meetings happening across the country spearheaded by IGNOU. So we make use of these resources, make the material, edit and print it. We have the largest repository of educational material in the whole world.
How frequently is course material updated?
Every five years, that is the mandate. Very eminent people are involved in this. 250 man-days are involved in the preparation of the material of a particular course/subject of a particular programme. So this material is the result of the teamwork of a large number of people from the universities and colleges of the conventional education system. If they can prepare this world-class selfstudy material, why shouldn't they also teach a large number of people, using this material? So, we are looking at how to make use of this distance learning technology and information and communication technology to enhance the quality of the teaching process.
So, our approach is subject-based, to improve the quality through ICT pedagogy. For example, how can a Chemistry teacher use ICT to demonstrate virtual experiments or -273 degree centigrade temperature, which can never be done in a real lab? Even in Sociology, Biology or Organisational Behaviour many things can be better explained by using ICTenabled models.
You have been mentioning technology quite a lot. Can you tell us what technological tools are being used?
We are using the VSAT technology called EduSAT to reach people, and we use Gyandarshan on TV. Then we have Gyan Vani, the community radio. We have put all our material in soft copy on the Internet, FlexiLearn is the platform we are using. In Flexi-Learn, we have put all our material and tens of thousands of videos on the platform as an Open Education Resource (OER); several thousands of audio cassettes, all this is in our repository and has now been put on this platform called Flexi-learn. You can access it for free but if you want to appear for an examination you have to pay Rs 100 or 200 per paper to get a certificate/ degree/ diploma.
There is a criticism that IGNOU is moving too fast. Your comments.
No. Only 5 per cent of the workforce in the country has some sort of a certification but they are working. And this is in contrast to over 80-90 per cent, in developed countries such as the US. We have a real challenge — to train a large number of teachers. We need millions of teachers. And then, the so-called trained teachers, what is their training?
Take this example of RTE: a shortage of 5 lakh teachers for just one project, which is limited to just primary education. Then they have to be given secondary education as well. Where are the teachers? Who will train these teachers? We need teacher educators. We need to move faster.
There are 230,000 public education and training institutes in the country outside the formal education sector, under different ministries. If the facilities and the capabilities (of people working there) are utilised for just 10 more hours per week, we can double our capabilities without adding a single brick in this country. So the optimal utilisation of the facilities by networking with the institutions is precisely the way we are working.
Sumita Vaid Dixit for Careers360
Source : Rediff /


Careers360 is a complete education and career magazine offering campus and course reviews, career features, scholarships, expert advisories, entrance exam preparation & solved papers, admission alerts and more.