Home » Information, Interesting Facts
10-point plan for India to be an economic superpower
India is considered an emerging economic superpower. The Indian economy, which has weathered global economic crises better than most other countries, continues to boom.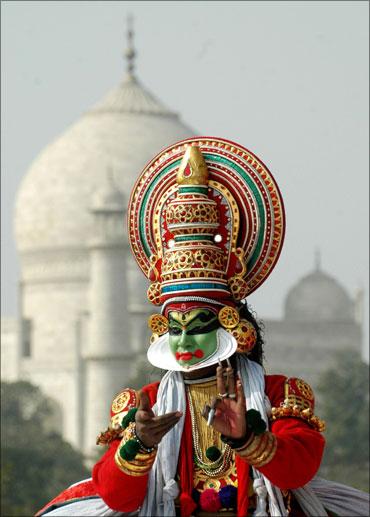 Image: A dancer performs at the rear of the historic Taj Mahal to promote tourism in Agra.
Photographs: Brijesh Singh/Reuters
But there is still a pressing need to sustain the pace of growth and to achieve even higher rate of development so that the fruits of liberalisation and economic progress percolate down to the poorest sections of the society.
In order to create livelihood opportunities for the large unemployed population of the country, the need for double-digit growth of the economy as a target cannot be overemphasised.
So how does India achieve a super rate of growth? The Confederation of Indian Industry has come up with a 10-point plan to achieve this goal by 2014 and to catapult India into the league of economic giants.
Taking this agenda forward, the CII organised a session on '10% GDP Growth by 2014: Imperatives and Impediments' on Tuesday.
The CII presentation said that despite a 14 per cent shortfall in rainfall during the period June 1 to July 15, kharif sowing is progressing well and this augurs well for the economy.
A recovery in agriculture is likely this year leading to upside in GDP growth, CII said, and added that industry and services sectors will remain strong as capacity expansions take place to take advantage of rising demand.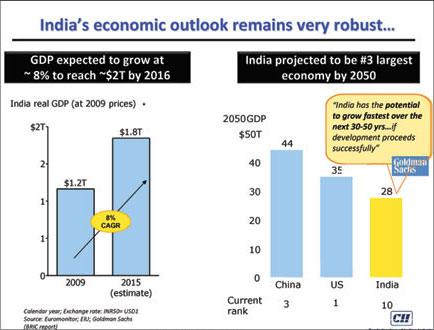 However, the trade body cautioned that the country still faces some significant challenges which could act as impediments to its stellar rate of growth. Some of these challenges include:
Inflation: There is an urgent need to get inflation under control; monetary policy cannot be the only instrument when the drivers are food, fuel and commodities.
Global developments: Developments in European Union, Greece especially, highlight the fact that global conditions will remain volatile for some time; excessive dependence on foreign capital inflows is not recommended for India.
Exchange rate: Currency fluctuations being driven by external conditions will have an impact on the real sector; important role for the Reserve Bank of India in preventing excessive volatility.
Trade prospects: Improving with stabilisation in the global economy but growth in developed economies will remain weak in the near term; need to diversify markets.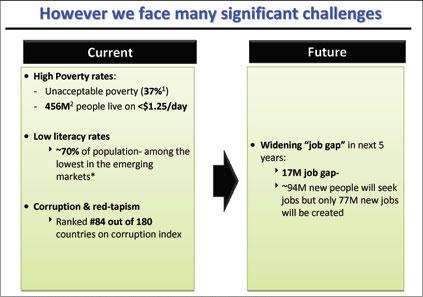 The CII presentation laid out a ten-point agenda for 10% growth by 2010:
1. Achieving 4% sustained agriculture growth
The CII said that there is virtual stagnation in agriculture due to:
Poor infrastructure
Collapse of Agricultural Extension System
Decline in public investment in agriculture/ irrigation
Fragmentation of land holdings
The trade body believes that the following needs to be done to achieve higher farm growth:
Raise farm productivity by improving quality of inputs.
Better supply chain management.
Improving market linkages.
Optimal and sustainable use of available land.
Right pricing of power and water.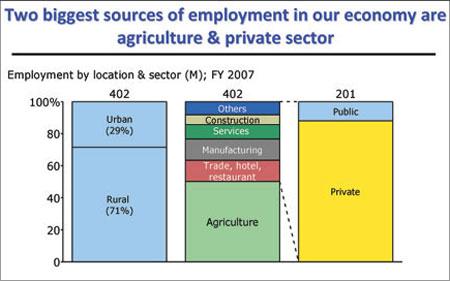 2. Achieving 11-2% long-term manufacturing growth
Need an enabling manufacturing policy to include:
Simpler clearances and approval mechanism.
Encouragement to green manufacturing technologies.
Appropriate infrastructure.
Flexible labour rules without diluting social security net.
Easier exit policy.
India's economic policy addresses these issues therefore, but this needs quick enactment.
Every additional 1% growth in manufacturing creates 20-30 million additional jobs.
Need to develop strengths in labour-intensive sectors such as textiles, consumer electronics, furniture and industrial machinery.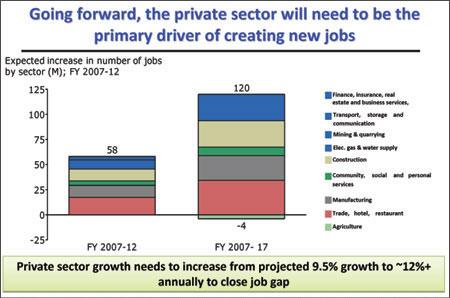 3. Taking services to the next level
Key policy changes required in services sector include:
Enhanced FDI participation in select areas of services.
Set up a National Services Competitiveness Council.
Iron out Centre-State issues in the services sector.
Improve the viability of the informal sector in services.
Rationalise taxation issues in the sector.
4. Creating world class infrastructure
Roads and highways: Improve dispute resolution mechanism for road development.
Power sector: Push distribution reforms in the power sector through privatisation of large discoms, reduction in AT&C losses and peak load management.
Civil aviation: Timely policy intervention for settling the issues regarding airport infrastructure; provision of space for establishment of MRO facilities; and, rationalization of high sales tax on ATF.
Ports & Shipping: Corporatise major ports and improve port evacuation facilities for improving port connectivity.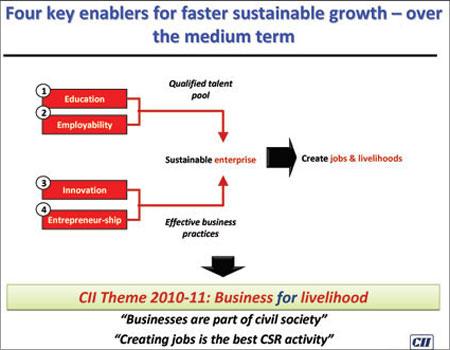 5. Education
The CII said that CII in partnership with the government of India will set up 30 industry-academia innovation centres across the country. The trade body will also establish 10 new skill development centres during the course of the year to enhance employability.
The CII added India suffers from high poverty, illiteracy and joblessness. This, it said, would lead to a millions of Indians being unemployed, considering that in the next five years 94 million people will be in the job market while there will be only be an estimated 77 million created during the period.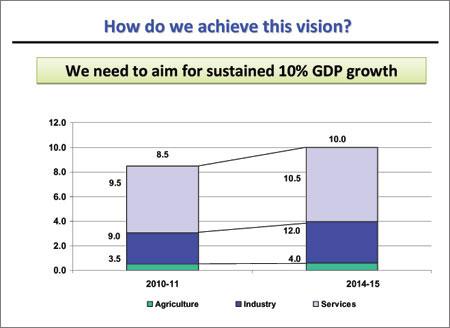 6. Develop skills to boost employment
The private sector and the agriculture arena make up for most of the jobs that are created in the Indian economy currently, and emphasised the need for the private sector to become the main employer in the coming years so as to narrow the widening job gap. However, for this to happen, said the CII, the private sector needs to grow at over 12 per cent year-on-year as compared to the projected growth rate of 9.5%.
The CII presentation said that the main 'enablers' for faster, sustainable and inclusive growth in the medium term include a) education, b) employability (these will help generate a qualified talent pool), c) innovation, and d) entrepreneurship (these will help create more jobs). CII believes that these four key enablers would help achieve the desired quality of growth.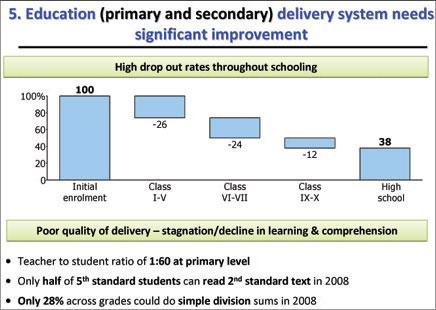 7. Conducive labour policy to create employment
Objective
To bring together industry, governments, and labour rights groups and create a policy environment that supports employment generation, inclusiveness and productivity enhancement.
To develop best practices in labour management and standards that meets global benchmarks.
Policy imperatives
Simplification and rationalisation of labour laws.
Development of best practices for contract labour keeping in mind the objectives of livelihood sustainability.
Industry and other stakeholders should focus on occupational safety.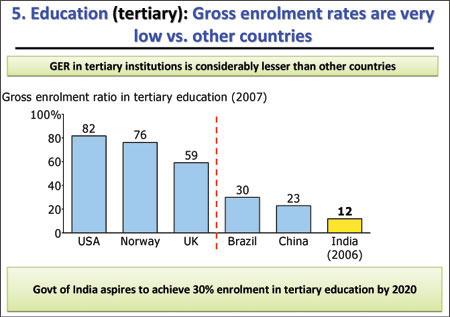 8. Improving government delivery systems
Quick implementation of Unique Identification scheme.
Move to a system of cash transfers or coupons compared to present system of subsidy in specific items.
Significant improvement possible in case of targeting food subsidies by moving to food coupons that can be redeemed against food supplies in any retail outlet.
Greater devolution of power to local governance bodies such as Panchayats in rural areas and municipalities in urban areas.
Willingness of government bodies to work with private sector for ensuring better delivery: PPPs in education and health services are promising.
Set up regular monitoring/ assessment system using special groups comprising experts, government officials and industry, in areas where large outlays are made by government.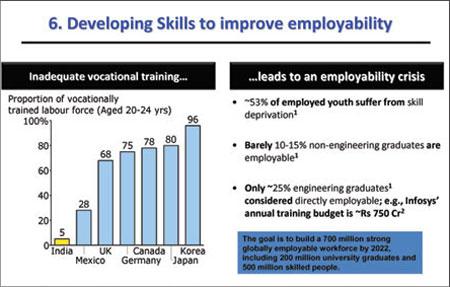 Photographs: Courtesy, CII
9. New urban centres as growth poles
Structural challenges driven by nature of urbanization in India, i.e. unprecedented scale, high density cities and predominantly brownfield.
Policy limitations: Private participation and urban local bodies functioning with poor execution capabilities.
Administrative problems: Municipalities are overburdened resulting in poor levels of service delivery.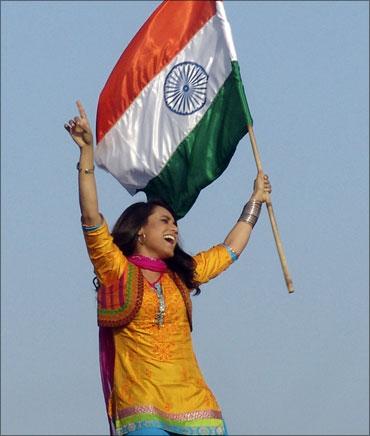 Image: Indian actress Rani Mukherjee waving the Indian flag.
Photographs: Reuters
10. Financing high growth
Develop Rupee denominated corporate debt market for raising long-term capital.
Increase access to international debt markets.
Expansion in capital base of banking system.
Greater FDI needed in insurance and banking.
Resources currently locked up in financing government debt needs to be freed.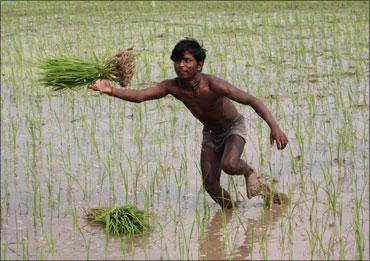 Image: An agriculture labourer toils in a farm.
Photographs: Reuters
In a nutshell:
1. Agriculture needs to grow at a sustained rate of 4%.
2. Manufacturing needs to register 11-12% long-term average growth.
3. Service sector needs to remain robust and a growth driver.
4. Physical Infrastructure needs to be of global standards.
5. Education would have to be the centre of reforms.
6. Skill development would need a massive step up.
7. Labour environment and rules need to be conducive to employment creation.
8. Delivery mechanisms of government need to be streamlined.
9. Need new urban centres to come up as growth poles.
10. The financial sector reforms need to be fast tracked to enable financing of a high growth, large economy — particularly focussing on long-term funding instruments and financial inclusion.
Source : Rediff