Home » Interesting Facts, Places
This is the costliest hotel ever built in India! Will it make money?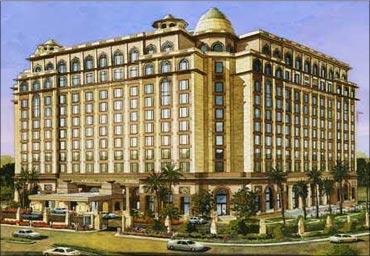 Two massive elephants moulded out of limestone dust hold the glass roof of the portico supported by brass and wood.
A cream Rolls Royce waits for its custom. Highlanders in black Nepali cap, black trousers and yellow coats wait at the doors.
The lobby rests on thick Corinthian pillars of Turkish limestone. The chandeliers are made of hand-blown glass from Murano.
Sculptures by Satish Gujral and Satish Gupta, as well as some brass antiques, are strewn across the lobby.
The lobby opens into a small lawn surrounded by the hotel on three sides. There is a 10-foot bust of Devi in bronze, copper and brass at one end; on walls facing each other Satish Gupta has done a mural of a thousand lotuses in brass covered with 22-carat gold.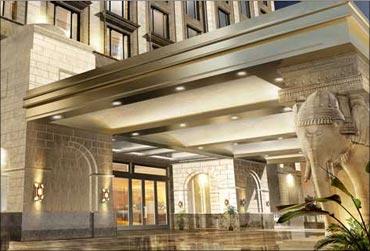 The brown facade of the hotel owes itself to sandstone imported from West Asia.
The hotel boasts of artworks from Paresh Maity, Laxman Gowd and other artists. The Library bar has over a thousand hardbound first editions.
There is ample evidence that Capt C K Krishnan Nair has put large chunks of money on his most ambitious hotel to date, The Leela Palace Kempinski in New Delhi.
All told, Capt Nair (he served in the Maratha Light Infantry till 1950 and entered the world of hotels only in 1987 when he was in his 60s) has spent Rs 1,700 crore (Rs 17 billion) on the 260 rooms and suites. At Rs 6.53 crore (Rs 65.3 million) per room, this is the most expensive hotel ever built in India.
Isn't that too expensive in a country obsessed with value for money? Hasn't business moved out of downtown New Delhi to suburbs like Gurgaon and Noida? Won't the dozen or so upscale hotels coming up in the city cause a glut in the market? Isn't the Aman, the city's only luxury hotel, on the block because it hasn't made money?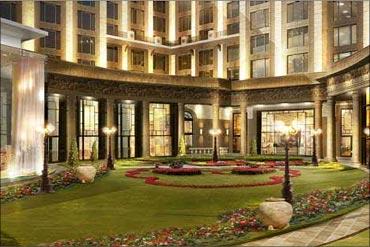 Capt Nair's detractors will give you good reasons why his premium gamble will not work — his lowest tariff of Rs 20,000 a night is above rivals like The Oberoi (Rs 18,500) and ITC Maurya (Rs 18,000), though it is lower than the Aman (Rs 27,000).
But history is on the 88-year-old hotelier's side. When no self-respecting Mumbai hotelier would think of any place other than the downtown areas, he opened the Leela Kempinski near the airport.
By the time others acknowledged that he had got it right, Capt Nair had had a free run of almost a decade. Again in Bengaluru, when nobody dared to charge more than Rs 7,000 a night, he moved in with double the price and pulled it off.
"We are confident about the hotel's success as it is the first new hotel in downtown Delhi in the last 30 years to come up in an upmarket area which is in close proximity to the Rashtrapati Bhavan, embassies and the central business districts," says Capt Nair.
The new hotel, located in the diplomatic enclave of Chankayapuri, has been financed two parts by debt and one by equity. ("It's a debt-fuelled hotel," insists a Delhi hotelier.)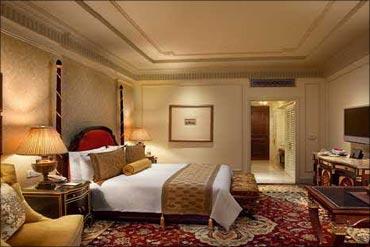 It means loans of Rs 1,134 crore (Rs 11.34 billion). The weighted interest of 11 per cent would result in annual interest outgo of Rs 125 crore (Rs 1.25 billion) and monthly drain of Rs 10.42 crore (Rs 104.2 billion).
Forty per cent of it will be contributed by the restaurants. So, the 260 rooms and suites need to fetch revenue of at least Rs 6.25 crore (Rs 62.5 million) a month. The lowest room rate is Rs 20,000 a day or Rs 600,000 a month.
So, Capt Nair needs to sell around 105 rooms every month to cover the interest payment. That's occupancy of around 41 per cent throughout the year.
To put it in perspective, top Delhi hotels do about 70 per cent in the peak season from October to March and 45 per cent in the rest of the year.
"We hope to be 75 per cent full on an annual basis," says Charles Morris, the hotel's general manager, who came on board last May from the Bangkok Peninsula.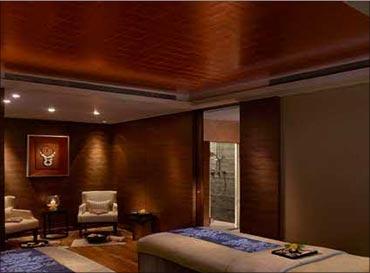 The hotel expects to do annual business worth Rs 160 crore (Rs 1.60 billion).
"Our gross operating profit margin will be 50 per cent," adds Morris.
When the norm is that no upscale hotel breaks even in less than five years, what makes him so confident? After all, there are more than half a dozen hotels not very far from The Leela Palace Kempinski with almost 3,000 rooms between them.
Another dozen are coming up in Gurgaon, Noida and near the new airport terminal. These should add at least 4,000 rooms to the stock. How will it survive?
Hoteliers insist that the average room rate of no upscale hotel has ever crossed Rs 18,000; so it could be difficult for Capt Nair to hold on to the lowest tariff of Rs 20,000 for long.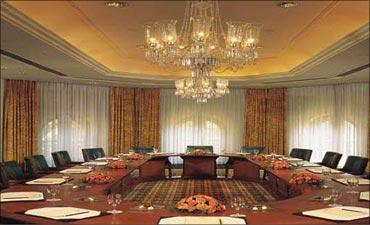 Morris expects the company's hotels in Mumbai and Bangalore to feed Delhi, hopes to wean away luxury tourists from hotels like The Imperial and do a lot of hardsell to the foreign missions around.
"We have a special marketing team for that," says he. Morris has an eye on heads of state and other high-powered delegations that come to Delhi frequently.
Thus, the presidential suite, which comes with a complementary Rolls Royce, has a separate elevator and is fully bulletproof.
He also expects diplomats from nearby missions to drop in frequently to the restaurants — Indian Jamawar, Japanese Megu, all-day diner Qube and Italian Le Cirque.
The cash cow, say experts, could be Megu because the average ticket size in Japanese restaurants is double of other restaurants. Morris expects Megu to fetch Rs 6,000 per diner, way above Rs 3,000 to Rs 4,000 at Jamawar or Le Cirque.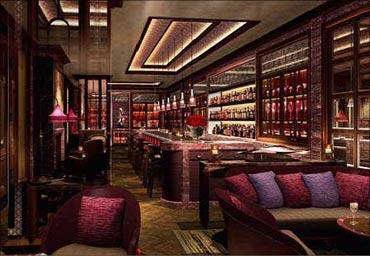 A rival hotelier points out that most missions, faced with more and more work, are moving staff out of the diplomatic enclave to Dwarka. This could throw the hotel's business projections awry.
He also questions the hotel's ability to attract high-end tourists because it has nothing to offer in Agra and Jaipur, which along with Delhi complete the golden triangle of Indian tourism.
Morris lets in that Hotel Leelaventures has bought land in Agra on which a hotel will be up and running by 2013. Plans, says he, are also afoot for a hotel in Jaipur. Of course, the company has an 80-room hotel in Udaipur.
What about the business traveller who would probably have meetings in Gurgaon or Noida, where most corporations have moved from Delhi? Morris feels there are still quite a few people who come to meet government officers in the various Bhavans nearby; they would find the hotel conveniently located.
For high-end corporate travellers, the hotel has 39 Royal Club rooms where the decor is different, furniture is done with mother of pearl inlay, five different meal options are offered, access is provided to the club lounge and airport transfers are done in BMWs.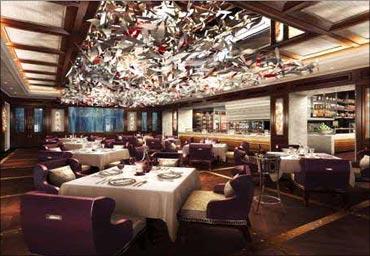 This may work in an up-cycle and not in a down-cycle because companies slash their hotel bills ruthlessly at the first sign of a slowdown.
Does The Leela Palace Kempinski really have a differentiator? Will the experience of the hotel be different from others and justify its premium tariff?
Little bits here and there, Morris hopes, will help the hotel stand out. Thus, there is butler service for every room and not just the suites; there is no shopping arcade, except for a small shop for knickknacks, which does not spoil the exclusivity; bathrooms come fitted with water-resistant television screens; the rooms are the biggest in the city (550 sq ft to begin with); and there is a special escort service for women guests travelling alone.
There is an all-woman staff at the lobby where guests can order beverages. Some sector experts say that more than gimmicks what matters is the quality of service.
The service staff, Morris says, is between 23 and 28 years of age. "The other hotels in the city, because they have been around for long, have older staff," says Morris.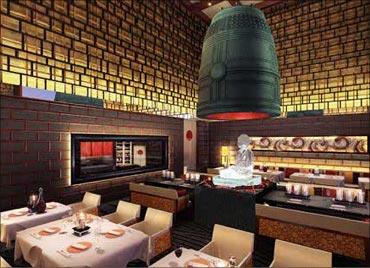 Younger staff, of course, means more energetic service. Most of them have joined from the leading city hotels. All of them are put through in-house training. The extended soft launch — it first opened itself to guests around the Commonwealth Games last year — has meant that Morris and his team have got the time to iron out the glitches in service.
There are, at the moment, three employees per room, and Morris says the number could eventually go up to seven for two rooms. The focus is prompt service (the bartender will not take more than three minutes to serve your drink) and personalised care.
The hotel has been designed by Smallwood Reynold Stewart & Sterwart of Atlanta. The brief given by Capt Nair was to build a hotel that fits in with the colonial architecture of Lutyens Delhi. This explains the pillars, high ceilings and arched windows.
The interiors have been done by KNA Design of the United States. Madhu Nair, Capt Nair's daughter-in-law, has selected the artefacts and the fabric, linen, colour scheme, etc.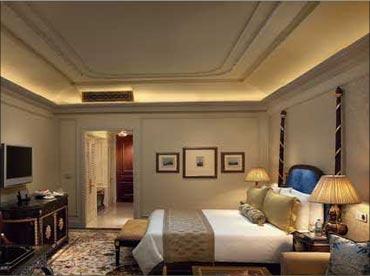 Elephant and lotus motifs can be found all over the hotel — on walls, floors and ceilings. All furniture in the hotel is made of teak in the workshops of Noida; no rubber wood, no factory-made South Asian furniture has been used, the hotel staff claims.
The hotel is at one end of the diplomatic enclave where the greenery ends and government colonies — box-like concrete structures — begin. There is a bus stand nearby as well as a crowded market for the masses.
The view from the top could be a spoiler. So the hotel has taken upon itself to landscape the 5.5 acres of adjacent land. Potted plants have been put in large number on the terraces to add to the greenery.
The road in front is heavy with traffic at all times. An Al Fresco dining area is planned on the veranda close to the road. To cut out the noise from the traffic, a water curtain is being put up.
The stakes have never been bigger. Capt Nair and Morris will need to beat the odds.
Source: