Home » Mobiles
20 hottest concept mobile phones
Ever wondered what the future of mobile phones would be? Well we do.
Phone producers show us every year some really superb concept phones and even if 99 per cent of those phones never see the production line they give us a wonderful glimpse of what the phones will look like in a not so distant future.
We've made a list of what we think are the coolest concept phones presented in 2010. But do not ask where can you find them and at what price
1. LG Flutter concept smartphone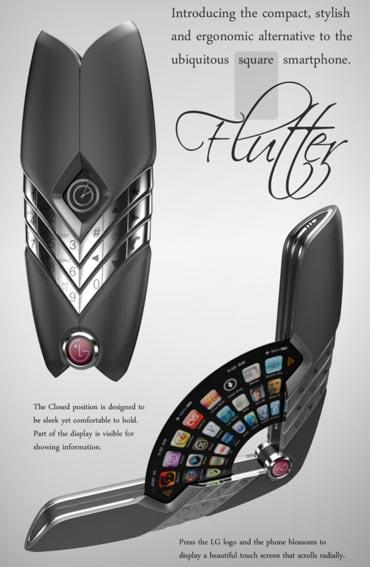 The smartphone got the first-ever Prop Mater's Choice Award, given to Dua Xiong for the amazing design. The LG Flutter by Dua Xiong slides apart, then splits open to reveal a flexible, fan-like OLED screen. The winning design will be manufactured, but Dua Xiong's LG Flutter will appear in an upcoming blockbuster action flick (movie not yet revealed).
The LG Flutter boasts of an interface similar to the iPhone.
The only difference is that the LG Flutter makes use of radial interface which is certain to get some attention. The LG Flutter looks more like a fan or a killer's boomerang which we see in sci-fi movies.
Regardless, the design does seem fit for the future of mobile phones but looks a bit sophisticated to use.
2. Nokia 888 Communicator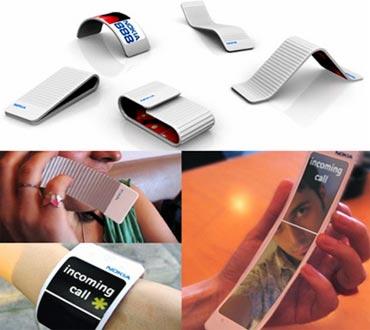 Nokia 888 is a concept mobile phone with a bracelet-like design that has never been endorsed by Nokia. This mobile phone concept has been designed by the industrial designer Tamer Nakisci and won the Benelux design contest in 2005.
Five years have passed since the award and still no mobile phone company has put it in practice.
The phone has an amazing design. You can fold it in many ways according to your needs. You can wear it as a bracelet, roll it, bend it and wear it as a clip on your clothes. It is amazing how fun this mobile can be.
Nokia 888 Concept is mostly targeted to teenagers that are very active and take place in a lot of different activities.
3. Window Phone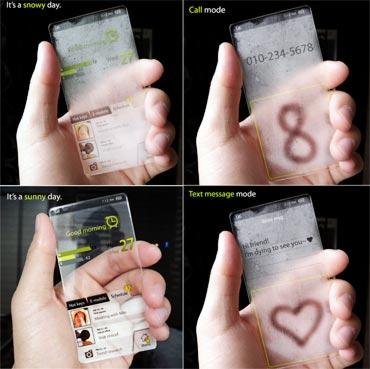 Finally we have a product to throw on the faces of the shameless weather officials of our country.
Whenever they predict sunny day be sure it would rain. So we have thought of gifting them this 'Window Phone' that makes accurate predictions and even changes its display to reflect the climatic conditions outdoors.
Maybe we should keep the phone for ourselves and bug the bureau with updates.
4. Nokia Morph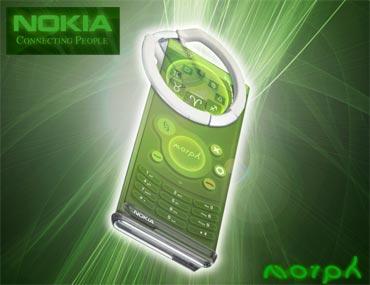 The Nokia Morph is a concept mobile phone created by Finnish company Nokia. The concept, which was unveiled on February 25, 2008 at the The Museum of Modern Art in New York City, was the product of a joint study into the future of mobile phones by the Nokia Research Center and the University of Cambridge's Nanoscience Centre.
The device was presented as part of the museum's 'Design and The Elastic Mind'.
According to Bob Lannucci, Nokia's chief technology officer, the 'Nokia Research Center is looking at ways to reinvent the form and function of mobile devices. The Morph concept shows what might be possible.
The device, which is non-functional, is intended to provide a conceptual showcase for future applications of nanotechnology in the realm of consumer electronics.
The phone's theoretical feature list would include the ability to bend into numerous shapes, so it can be worn around the wrist or held up to the face; transparent electronics, which would allow the device to be see-through yet functional; self-cleaning surfaces that can absorb solar energy to recharge the phone's battery; and a wide range of fully integrated sensors.
5. Clover Phone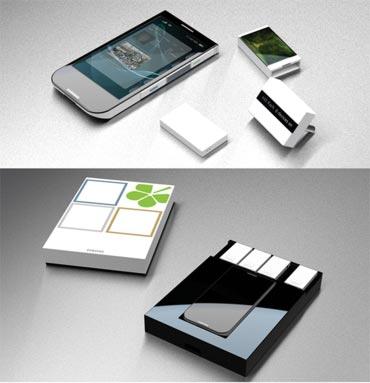 On looks it's just another ordinary phone prototype, but made in recycled material, the Clover is a customisable phone that touts four different module interfaces, a tact which allows the device to be upgraded to meet latest advancements in technology.
Designed in collaboration with Samsung Corp Milano, the Clover phone has these modules comprised for vision, location, sound and sensor which can be added to the device both by developers and independently.
The rear of the handset has a PLCD (Permanentmagnetic Linear Contactless Displacement Sensors) that changes from opaque to transparent corresponding to the intensity of the juice levels.
The phone also features feasibility for two additional add-ons, the LCD and the electronic sensors, and also has a graphical interface pop-up to display various applications in us.
Given the green aspects on the high-end tech the phone caters to, we guess it'll be a selling proposition with the green hooded.
6. Nokia E97 Envelop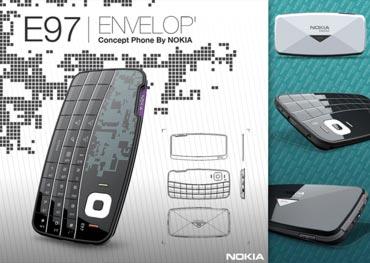 The future of the phones is here, the E97 Envelope concept phone from Nokia. Parisian ID student, and soon-to-be design star, Fabien Nauroy, has designed it.
The dual-orientation phone looks like it would have a pull-out LED screen and goes by the name of the Nokia E97 Envelope. Take a look at the image and you'll see why.
Fabien Nauroy has put together a Nokia concept phone that seems to mix function, form and desirability together in one package and we don't think we're alone at being in awe over this design. After all, design site Core 77 picked up this young Parisian's design and showcased it.
We think it looks absolutely fantastic. It has a pull-out LED screen that allows you to share web pages or photos of friends with others as though it was a printed page.
7. Motorola KRE8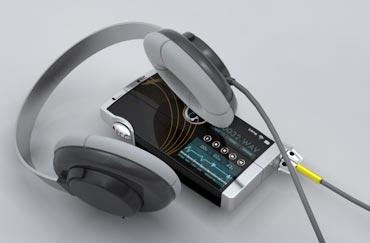 Motorola KRE8 is a new phone concept that, if ever built, it would be among the weirdest handsets out there. Needless to say, it would also be quite distinct from the MOTOROKRs currently available on the market.
At first sight, the device looks like a portable media player, but it's actually a full touchscreen phone that should have 3G, GPS and lots of advanced music features.
Designed by Jose Tomas DeLuna, the KRE8 would come with three pre-loaded modes: Instrument Mode, Record Mode and Mix Mode. These can be activated and controlled via the large touchscreen display.
One of the coolest things about the Motorola KRE8 is that you can literally split it in two pieces.
After doing so, each piece uses its own accelerometer for detecting the gestures you make. This way, you can use the device as an instrument simulator — guitar, violin or drums — and simply start creating music.
8. Emir Rifat's Packet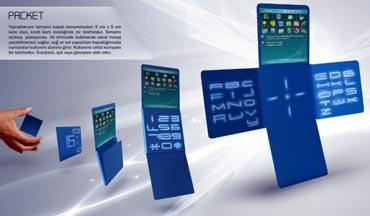 Let's get the obvious joke out of the way: most men would be delighted if their packet won a prestigious award.
But Packet is no laughing matter: this fantastically foldable mobile phone concept won first place at Istanbul Design Week 2007 and no doubt ensured that industrial design student Rifat won't be short of job offers.
Like most concepts we doubt we'll ever see this one in the real world, but it's a great bit of design nevertheless.
9. Kyocera's EOS folding OLED mobile phone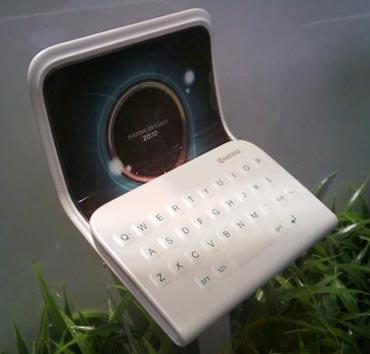 Kyocera has shown off a new level of gadget cool at CTIA by unveiling the EOS folding OLED mobile phone that can change shape to suit your needs.
Made of a semi-rigid polymer screen, the thing doesn't even have a traditional battery, instead powering itself of your movement.
The phone can be folded into a variety of different shapes for changing needs, such as completely flat for wide screen video viewing or a more traditional netbook shape.
It incorporates a low-power flexible OLED as well, although given that it's a concept it could probably turn into a magic carpet and fly you to the moon, as designers are free to make up pretty much whatever they want with these things.
10. The Mobile Script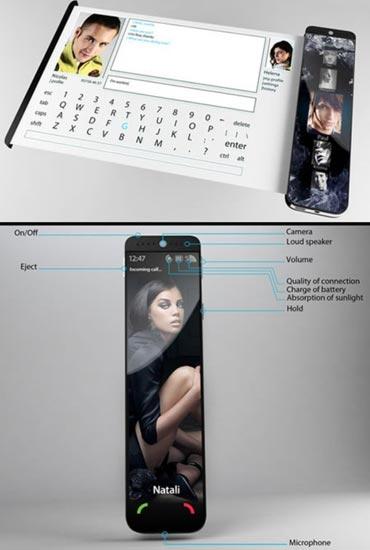 This phone is firstly a concept device so don't go rolling your eyes with the sort of features thrown in.
This handset aims to further explore the functions that current cellphones already have, including Internet browsing, working on-the-go, games and communications.
The device itself features a couple of touch screen displays, where one comes in the standard candy bar format while the other is made up of a flexible OLED display that can stiffen whenever a low voltage charge goes through it to make available maximum viewing real estate whenever required.
To make things more interesting, there is no need to recharge this puppy since it comes covered in a photo sensitive nano material that will harness solar power as energy.
11. BenQ Snake phone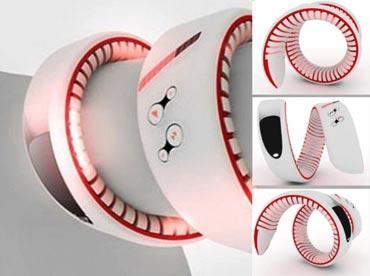 The BenQ Siemens concept phone is known as 'Snake' because of its design.
You can see the model, what a crazy look it has? Notice the presence of media playback buttons, the usual answer/reject all keys and excellent tiny display.
You can hold it with your own choice. This phone already have a lot of facilities like shaped figure, Bluetooth, Wi-Fi , new games etc. So have a great dream of it.
To make your dreams come true we can pray for it to come in the market only.
12.The Egg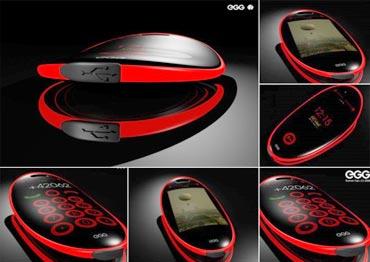 The Egg concept phone has a neat touch to it that makes it look like a futuristic device.
Its features are pretty realistic, for a manufacturer that would take up the project; Bluetooth, USB, Wi-Fi , a 3.2 megapixel camera and also 4GB internal memory.
This concept phone designed by Roman Tubi, who did a great job to make this type of unique concept mobile. Have you any guesses, where the phone can be found out?
Not to worry, lets hope that the expectation comes true.
13. S-Series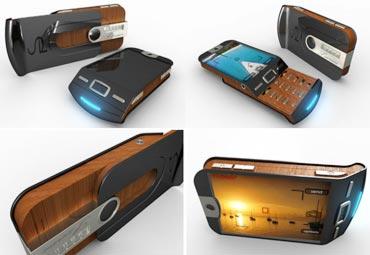 The S-series mobile phone is concept at the moment and looks very sleek. It appears to be made of wood that looks like wooden phone.
Actually it's combined with a stylish mobile phone screen and keypad. The keypad is not always needed as all the functions of the phone can be operated without it, although it is there just incase of your preferences about the product.
14. Duo-phone handset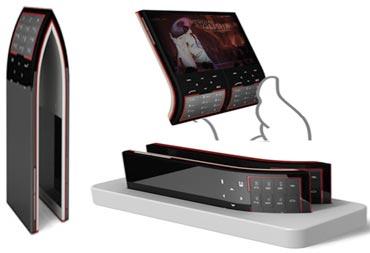 This Duo-phone handset concept designed by Daewoo Kim has a perfect relationship, sorta like Bobby and Whitney before the opiate abuse.
It's also more than meets the eye. At first glance it appears to be a regular concept we've see on NWS before, but no it really compliments itself.
You put them together and boom, their LCD size has doubled. If the other's battery power is low you hook them up and guess what? It charges up its significant other's battery.
It even looks like their Ying and Yang are in perfect harmony when they're in the cradle; it's a beautiful thing.
15. The health phone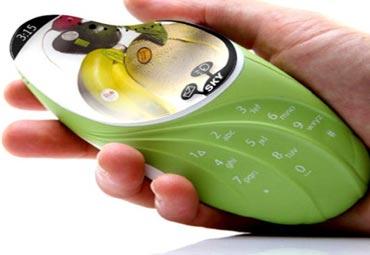 This health concept phone enables users to track their health through the peoples' nutrition and fitness.
Users of this phone who have similar goals like lose weight or run a 5km race can be networked together to motivate, and hold the others accountable for their workout sessions.
The phone is equipped with E-Nose technology in order to 'smell' and recognise foods eaten by their unique chemical signature. It tracks intake wherever you go, and will periodically analyse info to let you know what food groups you are missing.
16. Nokia's Aeon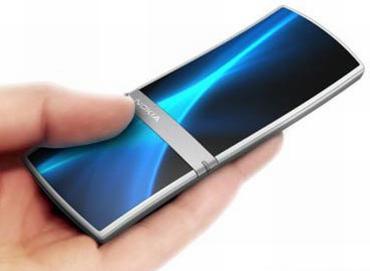 A concept phone that combines two touch-sensitive panels mounted on a fuel-cell power pack. Each of the panels are capable of being used independently.
The touch screen displays all buttons that are virtual, so in one situation one panel could operate as the display, the other as the keypad.
Nokia also establishes a new wireless standard with wibree, basically an upgraded bluetooth which would allow the Aeon to be a thin-client, farming out processing and storage.
17. DoCoMo's concept mobile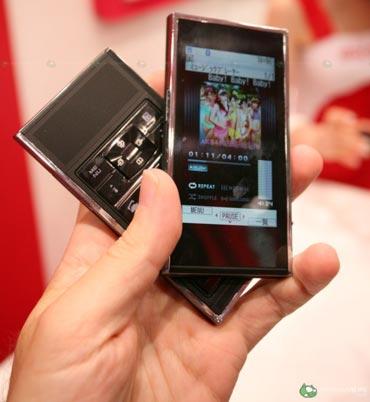 The phone in the picture above is a concept phone shown by DoCoMo and Fujitsu at CEATEC in Japan this year. This splitting cell phone look interesting.
I can't help but wonder how fast I'd destroy it.
I tend to play with cell phones, especially sliders and flip phones to the point where certain parts might fly off.
As you can see there's a screen and a keyboard segment. The two pieces are connected with magnets and they communicate which each other via Bluetooth.
There's no name for this splitting device as it's just a concept for now.
We're waiting to see if Fujitsu and DoCoMo will actually send it to massive production. It would be interesting to see what features it will sport.
18. Sony Ericsson's Greenheart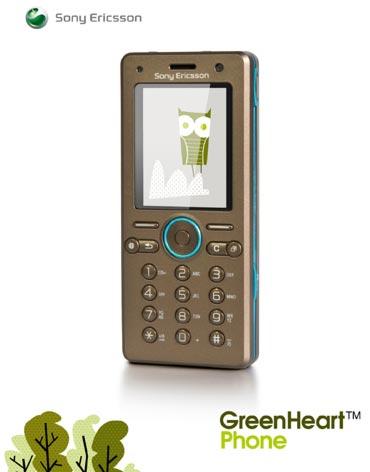 Sony Ericsson recently announced the launch of its eco friendly device, known under the name of GreenHeart. Unfortunately, the cellphone might not ever reach the mass production and we should be satisfied with all the promises invading the market nowadays.
GreenHeart incorporates a bunch of green technologies that people would love to see in the stores over the coming years, especially because the ideas it is based on are totally logical and could be executed today.
The device has a pretty impressive life cycle due to its bio-plastic housing and recycled plastic materials keypads, the zero charger with 3.5mW standby power and the HTML-based electronic manuals, in order to diminish the number of cut down trees for paper.
19. The new iPhone 4G concept phone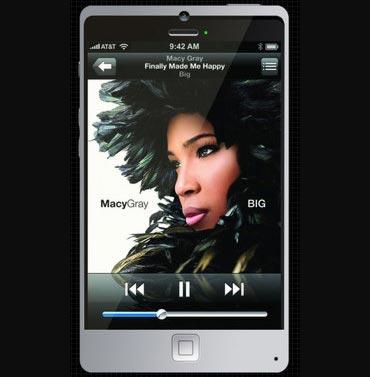 Alongside this new iPhone 4G concept, comes the features that have been rumoured (since last year) to be included into it:
AMOLED touchscreen display
Touch-sensitive case
Dual-core processor
More RAM
More internal memory (64GB?)
Video-call camera
5MP camera (possibly with flash)
20. LG's concept watch phone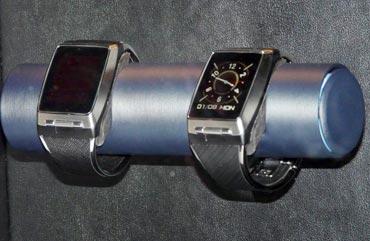 LG has shown off a concept watch phone at the Mobile World Congress in Barcelona, Spain.
The phone, which seems to be inspired by Dick Tracy, will allow you to carry a mobile phone around with you on your wrist.
Although details are sketchy as to the specs of the watch, LG has told Pocket-lint that everything is controlled either via voice or a roller at the bottom of the screen similar to how the company's Shine handset works.
Other tech that will be included is Bluetooth so you can connect a headset to make calls.
The Korean company says that you will be able to talk directly to the microphone built-in to the watch if you want.
Source : Rediff / Akansha Biswas, Exhibit.co.in