Home » Places
This is the world's longest cross-sea bridge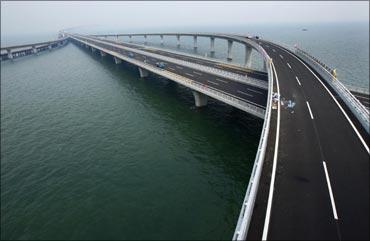 Image: Qingdao Jiaozhou Bay Bridge is seen in Qingdao, Shandong province, in this general view taken on June 27, 2011.
The world's longest cross-sea bridge, spanning 36.48 kilometers across the mouth of the Jiaozhou Bay in China's eastern Shandong province, opened to traffic on Thursday, just four years after construction started.
The bridge, connecting urban Qingdao with the city's less-developed district of Huangdao, cost about 14.8 billion yuan ($2.3 billion).
Authorities expect the project to boost the development of an industrial zone in Huangdao and to facilitate the rise of foreign trade by increasing the port's handling capacity, state-run Xinhua news agency said.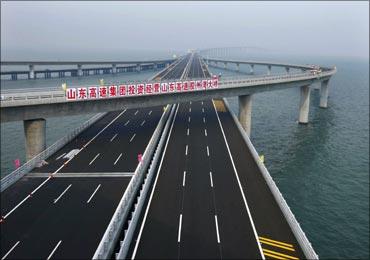 Image: A sign that reads: 'Shandong Highway Corp. invests to operate Shandong Highway Jiaozhou Bay Bridge' is seen at Qingdao Jiaozhou Bay Bridge in Qingdao, Shandong province.
The business community have been complaining of the inconvenience of the current, less-efficient sea transport, whose operation is at the mercy of the weather.
Han Shouxin, deputy director of Qingdao's traffic management committee, said the bridge will shorten the route between Huangdao and urban Qingdao by 30 km, cutting the travel time down from over 40 minutes to around 20 minutes.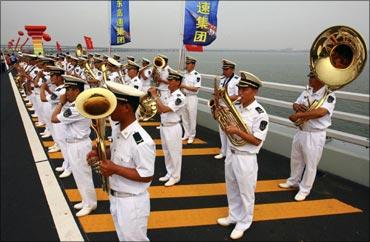 Image: A band plays during the opening ceremony of the Qingdao Jiaozhou Bay Bridge in Qingdao.
Before the project's completion, the Hangzhou Bay Bridge that spans across the bay of Hangzhou, in eastern Zhejiang province, was considered the world's longest cross-sea bridge.
Qingdao officials today also announced the completion of a 9.47-kilometer-long undersea tunnel that runs parallel to the bridge. The construction of the tunnel, whose lowest part is located 81 metres below sea level, cost another 7 billion yuan.
The construction started in August 2007.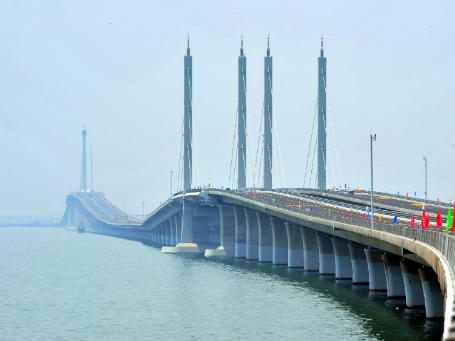 Image: Jiaozhou Bay Bridge.
Engineers overcame huge difficulties in building the tunnel amid a complicated geological environment, said Zhou Fengjun, an academician at the Chinese Academy of Engineering.
He said the project can now serve as a textbook for the country's tunnel-construction projects, Xinhua reported.